From our inception in 2009, Kids' Club has funded programs that we believe will have the greatest impact on the lives of those we serve.  Each year, approximately 1500 children in Tarrytown & Sleepy Hollow benefit from our support.  We forge close ties to the community, and work collaboratively to identify critical needs and find solutions.  Beginning at birth and continuing through high school and beyond, Kids' Club helps close the gap in services by providing opportunities for children to succeed.
Below is a moving five minute video speaking to the exceptionalism of our community and highlighting a few of the valuable programs Kids' Club supports:  Smart Babies, the RSHM LIFE Center's Afterschool Program and Let's Get Ready. Please click on the link to hear from students and parents themselves about how these programs have made a significant impact on their lives and have helped "build a bridge to a brighter future" for them all.
Luisanna V., in her freshman year at Fordham University; first generation in her family to attend college.  Luisanna participated in the Let's Get Ready college coaching and SAT tutoring program as a rising senior at Sleepy Hollow High School, which Kids' Club helped to fund.  A Kids' Club board member served as an adult mentor for Luisanna, throughout her senior year.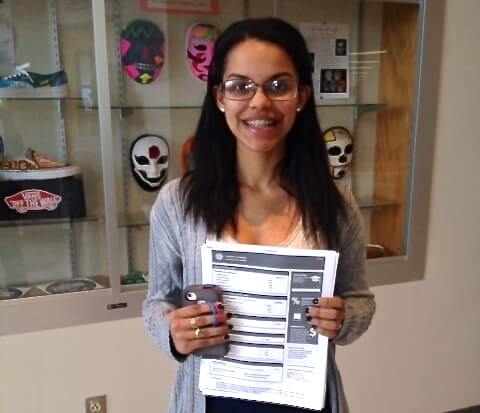 One of Kids' Club's signature funding initiatives, the high school's Mentoring Program, affords students the opportunity to experience their first paying job and serve as role models for younger students who also benefit from the additional academic support.  In their own words,  some of the mentors discuss what it meant to them to participate in this program.
Accolades for Kids' Club From Other Community Members:
"I received the gift cards  . . .  through Kid's Club of Tarrytown and Sleepy Hollow! Thank you for your generosity, … [and] for showing me love of a true community. … I hope to give back to the community of Tarrytown and Sleepy Hollow in the years to come." – Franklin P., Sleepy Hollow High School, Class of 2020
"As a school district, we partner with numerous community based organizations to meet the varied needs of our students.  Of these organizations, Kids' Club stands out for their comprehensive and unwavering commitment to supporting our students and the broader community. Whenever a demonstrated need arises, they can be counted on to provide invaluable short and long term resources to assist our students, their families, and the residents of Sleepy Hollow and Tarrytown. I am both appreciative and truly grateful for the incredible positive impact Kids' Club, through their volunteers and supporters, have had upon our District." – Christopher Borsari, Superintendent, Tarrytown Union Free School District (2016-2023)
"The Community Food Pantry of Sleepy Hollow and Tarrytown is extremely grateful for the emergency relief grant we received from Kids' Club. As a result of the Covid pandemic, the Pantry has seen a 200% increase since March 2020 in the number of families we serve each month. … This dramatic increase in the services we provide to our clients is in part possible through the support of Kids' Club." – Rachelle Gebler, Community Food Pantry of Sleepy Hollow and Tarrytown
"We all are [so impressed] by the level of commitment this organization has shown to the children of Tarrytown and Sleepy Hollow. As educators in the district, we continue to appreciate all of the work that Kids' Club is doing to help improve the lives of our underserved youth, because your efforts to ensure the basic needs of our children are met ultimately have a direct impact on our ability to do our jobs as teachers to the best extent possible. We are also impressed by the extent to which the Kids' Club impact extends to everything – – your organization's presence in Tarrytown and Sleepy Hollow is virtually ubiquitous." — Teachers' Association of the Tarrytowns
"Kids' Club is so much more than just a funding source for non-profits like the RSHM LIFE Center … . The Community Coalition (C2) has gathered agencies in a way that had never been done before. The value we have gained working together instead of as separate organizations has enabled us to reach so many more at risk children and families." –Sr. Susan Gardella, Executive Director, RSHM LIFE Center