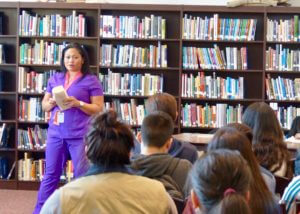 When a teen considers pursuing a career in medicine, he/she often thinks only of being a physician and of the many years of study required to obtain that degree. This can deter some from pursuing this path. But thanks to our recent Power Lunch panelists, students at Sleepy Hollow High School now realize there are many different options for a rewarding career in the medical field.
With support from Kids' Club, today SHHS proudly presented its first Career Panel Lunch of the year. Sandhya Narasimhan, Joanne Estacion and Giselle Burke spoke to approximately 60 students about their chosen careers in medical office management, nursing and radiology, respectively, the challenges and rewards of those choices, and the varying paths they took to get where they are today.
As always, the students had the opportunity to ask questions of the panelists, enjoy a complimentary lunch from Viana Pizza, and walk away with more ideas about what their own futures could look like after high school. Kids' Club looks forward to supporting additional panels this year on other careers in the area of health and wellness.