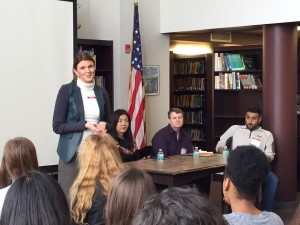 Science and technology were on the docket at this month's Power Lunch Career Panel, and the Sleepy Hollow High School Library Media Center was packed with students who came to hear an esteemed panel of four speakers.
Irene Morganstern, Ph.D and Senior Scientist at PsychoGenics Inc. specializes in disorders such as depression and schizophrenia. She described the work she does to test compounds in animals first. She asked the audience if they knew how you can tell if an animal is depressed? You put them in a beaker of water and see if they swim or give up. Dr. Morganstern started out majoring in pharmacology and toxicology. Her advice was to find a research project you enjoy, approach a professor and tell them you are interested in their work; do active research in the summertime, find a great mentor and keep in touch. She said she likes to ask a lot of questions, and that's what scientists do.
Li Wang, Director of Software Engineering, Teach for America (TFA) develops and designs software to support the daily TFA processes. It involves backing up and restoring data using cloud computing. She previously spent 10 years as a software engineer, and began her career at a technology startup. She joined TFA after she had children, wanting to work in the field of education. Li studied civil engineering in China, and has an MS from Stanford in Computer Science. Technology changes on almost a daily basis, so she advised students to push themselves to keep learning.
Matthew Blankschien, Ph.D. and Shakir Ratani are both scientists at BASF, a German based company and global leader in the chemicals industry, with an office in Tarrytown. Matt and Shakir are part of a research team focusing on microbial strain development to produce biobased chemicals via sustainable approaches. Doing research made the difference for Shakir. He began volunteering and then got paid. Getting experience is the first part, he said, but then you have to be eloquent in explaining what you've done. His advice was to see what you find fun and go towards it.
The students asked lots of good questions, and enjoyed a pizza lunch.
The Career Panel, an ongoing series, is sponsored by the SHHS Guidance Department, Career Program, Kids' Club and Viana Pizza.