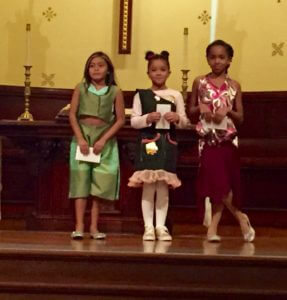 How do you create a wearable work of art from a recycled, second-hand, or outdated garment? Project Greenway contestants of all ages designed and modeled original creations at the 8th Annual Project Greenway Re-Fashion Show hosted by Scarborough Presbyterian Church.
Several young participants from the Ossining Children's Center were among those who proudly walked the runway wearing their one-of-a-kind creations. First, second and third prize winners were announced in two categories:  under 19 years old and 19 and over, and there was a cash prize for best overall design, as well.
Everyone enjoyed a festive reception after the prizes were awarded. Thanks go to Connie Curran and Patty Chapman, Project Greenway Co-Chairs, and to all those who contributed to the success of this original and uplifting event. And a big thank you to Project Greenway for designating Kids' Club as the local charity recipient of the proceeds this year. We are so grateful for your support.