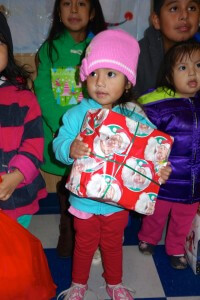 Kids' Club strives to fill the gap in services all year long, however we make a special effort at holiday time to bring extra joy to the families we serve. Through a combined effort by Kids' Club and the Community Coalition, a listing of ways to help at the holidays was published in the Hudson Independent. In response, the community enthusiastically rallied to support these organizations that worked tirelessly so that hundreds of families had enough food to eat and holiday gifts to give their children.
– Open Door Family Medical Center collected hundreds of new toys from community sponsored drives and distributed them to children at its festive Santa Day in Sleepy Hollow. Kids' Club donated 50 gift cards for Open Door families.
– RSHM LIFE Center collected toys and clothing for their annual Holiday Boutique. This special opportunity allowed LIFE Center parents to choose gifts to give their children for Christmas. Kids' Club was happy to donate to the toy and clothing collection.
– Asociacion de Familias Hispanas de los Tarrytowns ("AFHT") hosted their annual Family Holiday Potluck Party where over a hundred families gathered for a lively celebration, enjoying food, crafts, music and fun. Kids' Club was on hand with desserts and holiday crafts for the children, and we loved every minute! Click http://animoto.com/play/TLG741sTpEIIQQz6J1tctQ to see a video from the event.
– The Community Food Pantry served over 300 families from a special distribution by the Mobile Pantry that provided a holiday meal including chickens, vegetables and holiday treats. Kids' Club is proud to be a supporter of the Food Pantry since its inception.
Kids' Club thanks the community and these organizations for their efforts in making this a very special holiday for all.