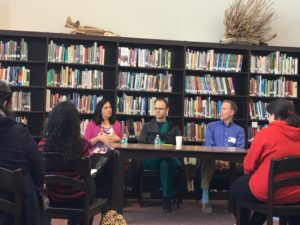 The Career Panel Power Lunch series at Sleepy Hollow High School continued its focus on the health care industry today at its second panel of the year. The nearly 40 students in attendance were treated to presentations by John Storck, owner of Briarcliff Physical Therapy and Sports Rehabilitation, Alyssa Apter, Special Education Evaluator and Independent Contractor, and Ben Masur, Speech-Language Pathologist at Burke Rehabilitation Center, each of whom has carved their own path within the growing field of healthcare therapy services.
The panelists spent an hour sharing with the students their career choices, the rewards and challenges of their professions, and their career paths. Storck, for example, talked about how his profession offers opportunities for those of varying educational backgrounds – – everything from a licensed physical therapist with a doctorate degree, to a therapy assistant, which would require fewer years of study, to a therapy aide, a position that does not require any formal training. Apter shared how her love for working with children and appreciation of collaborative problem solving informed her choice to work with young children with special needs. Masur engaged the students by describing the various patient conditions he treats, and the rewards of helping his adult patients learn to speak again after a medical set-back, such as a stroke or trauma. All three explained that their health care c areers allow them to work in private homes or offices, schools, hospitals, rehabilitation centers, and other settings, a mix of venues they have enjoyed.
The students had the opportunity to ask questions, speak with the panelists one-on-one after the session, and, as a bonus, enjoyed complimentary pizza from Sleepy Hollow's own Vianna Pizza. Most importantly, they left with more insight into career options in the healthcare field. Kids' Club looks forward to supporting the final Career Panel of the year later this spring, with additional panelists with careers in the health, medical and wellness fields.