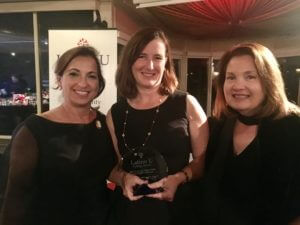 Kids' Club is honored to have been named the recipient of Latino U College Access's 2017 Community Advocate Award. Kids' Club has been supporting Latino U's FAFSA Boot Camps and Financial Aid Community Information Sessions at Sleepy Hollow High School since 2014. These programs provide crucial information to SHHS seniors and their families about the various types of financial aid available for college, such as loans and scholarships, and support the students with volunteers who assist them one-on-one in completing financial aid applications. In accepting the award on behalf of Kids' Club, President Jennifer Green shared, "Thanks to Latino U, the SHHS Guidance Department and Kids' Club, hundreds of Hispanic youth in our Tarrytown school district have gotten that much closer to achieving their goal of going to college and, equally importantly, are on track to graduate from college."
The award was presented on October 19th at Latino U's Fifth Anniversary Benefit, held at Abigail Kirsch at Tappan Hill and featuring moving speeches from three inspiring college students who had participated in Latino U programs. Over 200 guests were in attendance, including County Legislator Alfreda Williams, Assemblyman Thomas Abinanti and Deputy County Executive Kevin Plunkett.
Pictured here are Shirely Acevedo Buontempo, Executive Director of Latino U College Access, Jennifer Green and Heidi Schwartz, Kids' Club Development Chair and Latino U College Coach.